Overview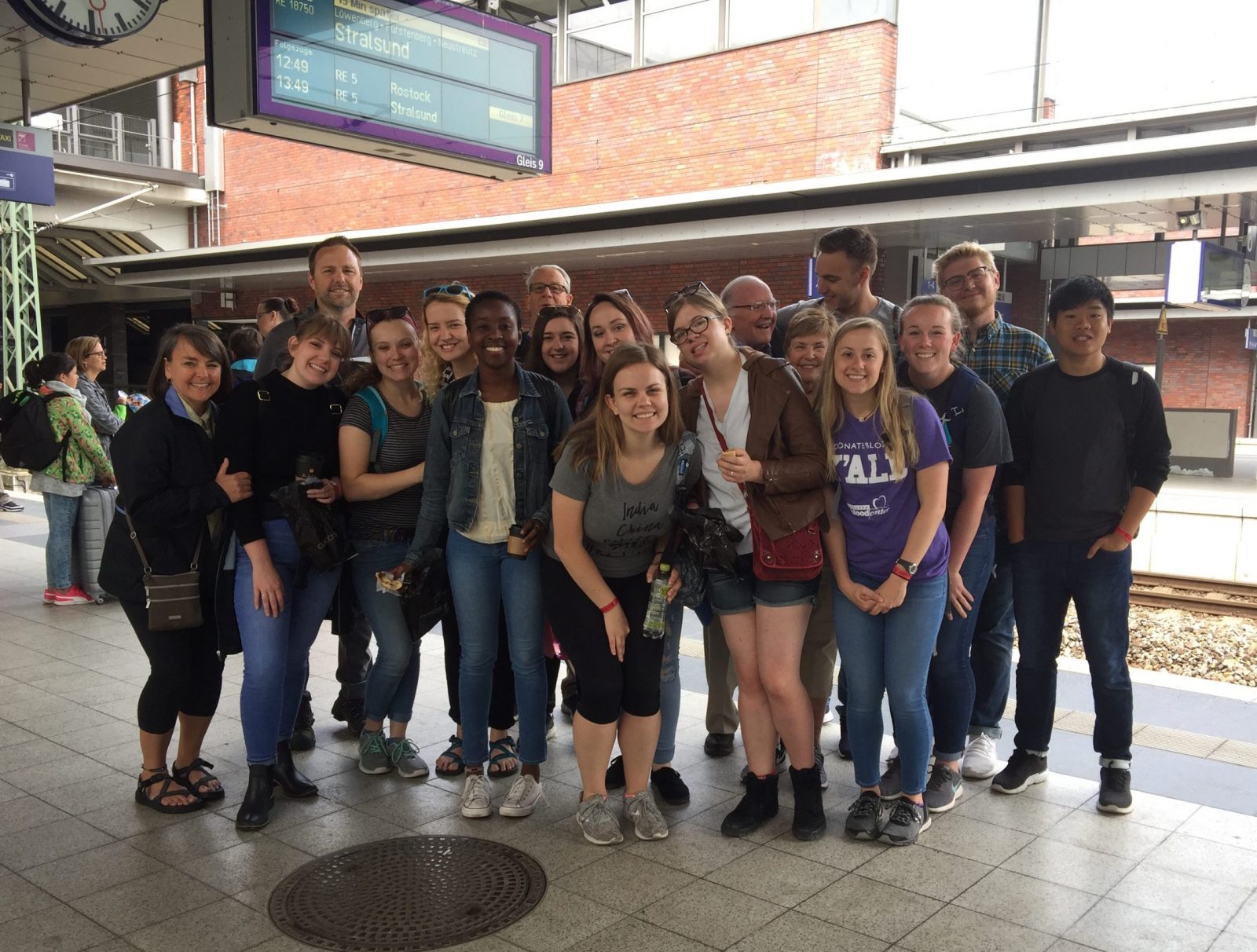 The 2018 tour was memorable and meaningful for a number of reasons. For one thing, it was a return to a much smaller group of students (13) than the previous two years. This facilitated the development of a wonderfully tight bond between the students. (This group felt so cohesive, in fact, that they decided to hold a little celebratory "roast" of all the team members on the last day of the tour!) This group also included several non-students (an aspect of the tours that I would like to further develop in the future). The students and I were accompanied by my wife (Cheryl), my father (Ken), and two other family friends, Paul Blair and Dee Horne. This mix of undergraduates and adults made for an especially vibrant assembly. The team bonding across the disciplines and across the generations was a wonderful thing to observe.
The Travel Packet
Highlights of the Tour
In terms of the itinerary, the basic formula was once again followed. We started in Berlin where we took at walking tour through the city, stopping at many meaningful sites (Bebelplatz, the Topography of Terror Museum, as well as many memorials – including the Aktion T-4 Memorial and the Memorial to the Murdered Jews of Europe; finishing with the Brandenburg Gate). The next day we toured the Jewish Museum of Berlin. On the following days, we took short trips to Brandenburg (Euthanasia Memorial and Museum), Oranienburg (Sachsenhausen Concentration Camp), and Furstenberg (Ravensbrück Concentration Camp). During unstructured time, some of us visited the Resistance Museum, the Anne Frank Center, and many other local sites.
We then took a coach to Kraków where we stayed just outside Old Town. Here we met up with some of Cheryl's family who were traveling through Europe, independent of our trip. They joined us on the day we toured Auschwitz I and II. Later on the Kraków leg, we toured the Schindler Factory Museum and did some exploring of the environments in and around where the Płaszów Concentration Camp held the Jews from in and around Kraków during the occupation. As in previous years, the Wawel Castle and Cathedral were explored, as were many of the shops and eateries of Old Town, as well as a couple beautiful parks that were just a rented-bike-ride away.
Finally, the team enjoyed an extended layover in Amsterdam where we took a guided tour through the city as well as a brief stop at the small picturesque Holland village of Zaanse Schans. As on the previous year's tour, we went to the city square of Haarlem, where the Ten Boom family lived and resisted the Nazi extraction of the Jews by allowing their house to secretly serve as a safe haven for those attempting to escape the city. This time we were able to take-in a tour of the Ten Boom Museum and saw the famous "hiding place" for ourselves.
Personal Highlights
For me, personally, this was a tour full of meaning and special memories. For one thing, I developed a much deeper relationship with Paul Blair, a friend and fellow resident of Wilmore who also has a significant interest in the Holocaust – going back to a concentration camp visit he had while studying abroad as a grade-school student. His interest in locations and events off the beaten path pushed me to explore more on this trip than any other. Of particular interest to him was the Płaszów Concentration Camp and the Podgórze Jewish Community Cemetery that was destroyed as the the camp was built. After much searching, we found it! Since our shared experience in 2018, Paul has served as a frequent source of Holocaust-related information. And his experiences with the French people while serving as a missionary in Paris, including some French Jews, has made him a particularly meaningful guest speaker in my "Psychology of the Holocaust" course.
We were also accompanied by long-time family friend (and experienced international traveler!), Dee Horne. Although very familiar with many holocaust-related sites (including Yad Vashem), this was her first experience with concentration and extermination camps. It was really special to see her build relationships with the students. An unexpected benefit to me was her helpful observations about travel logistics and flow. At several steps along the tour, she was able to draw on her familiarity with academic tours and give me some very helpful suggestions and ideas regarding how to make time-saving and practical enhancements to the experience.
Additionally, my wife, my son and my father were able to be a part of this tour. For Cheryl, it was wonderful for her finally to experience what had been, up until then, only an annual ritual of looking at a new gallery of pictures and hearing from me a new set of stories. In addition to visiting the historical sites with her, I thoroughly enjoyed going to European restaurants together, walking with her through Berlin's Tiergarten, and exploring greater Kraków on rented bikes (including a huge city park strategically positioned between the home stadiums of the two local Football Clubs, Cracovia and Wisła.
I was thrilled to have my son, Andrew, come along as well. He was one of the 13 Asbury students. Previously, I had the pleasure of bringing him along as a middle schooler on a collegiate soccer-ministry trip to Bogota, Colombia. However, as a collegian now, this tour presented us with an opportunity to have a shared academic study-abroad experience. I was gratified to see how interested he was in the theme of the trip as well as in visiting all of the sites and locations. In addition, Andrew being a huge football (soccer) fan, it was very special to be able to go with him to see not only the outside but also the inside of a major European Football stadium (The Olympiastadion, Berlin).
Finally, let me say that it was such a delight to have my father come along. He was a student of history in college, and the deep sense of appreciation that he for the unfolding human story is something that both my brother and I have instinctively absorbed from him. As a result, it was tremendously gratifying to be able to facilitate his interaction with locations that mark and museums that chronicle this important hallmark, albeit a terribly ignominious one, of the 20th century. What a blessing it was to periodically just step back and observe him take-in some of the exhibits at the various locations, and then to later sit with him and process our reactions to the events of the day. These were moments to treasure.
Future Tours
For more information about future academic tours, check out this website: https://www.asbury.edu/academics/cce/travel-courses/germany-poland/
Other Photos from the Tour